Shopping Cart
Your Cart is Empty
There was an error with PayPal
Click here to try again
Thank you for your business!
You should be receiving an order confirmation from Paypal shortly.
Exit Shopping Cart
Afri(K)que Limited


Handmade art empowering females in the USA & Togo,West Africa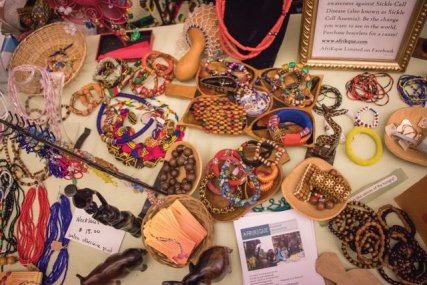 Do you have any end of the year resolutions? 
Is it losing weight, is it forgiving the ones who have hurt you this year or is it something you've never done before? 
Well, if I can share mine, it will have to be: finding more ways to give back. 
Did you know that right now there's a possibility to support a cause by buying a tee-shirt on Booster/Custom Ink?
 Are you feeling blessed this season? Take your time to bless someone else.
Keep in mind that we're going on our 7th year of celebrating Afri(K)que's International Women's Day. 
Will you be joining us? Do you have a talent that you want to share with the world but been putting it on hold for the day you feel confident? Leave that fear in 2018 and take part of our celebration.
 There are multi-cultural performances, guest speaking  and vending opportunities. We share food and inspiring conversations with each other and have a fashion show in colorful African designs supporting families experiencing hunger, poverty and homelessness.
Does this sound like something you want to take part of? Then join us on Saturday, March 9th in Springfield, MA from 1 to 5pm. 
It's always great to come back and share more things with you. The latest and greatest fashion idea happened recently in March where we decided to throw a party/celebration for our supporters benefiting the women and girls we work with! These are females from impoverished backgrounds who are struggling to make ends meet. Interestingly enough these women have so many talents and through their works of  art are slowly coming out of poverty and are able to afford a decent meal.
 The International Women's Day Celebration was a success. We had numerous sponsors.Guest speakers included Springfield Rescue Mission, Barefoot Books, Avon, Origami Owl and two young talented girls who spoke to the public on the empowerment of girls. We entertained our guests with African dancers,Maggie The Clown, a Domm Dee Photography and the highlight of the day: a Fashion Show in colorful designs. 
All I can say is,If you've missed the first one then make an effort not to  miss the next one. From the mouth of our guests: "It was a fun event", "Wow! I've never seen a dance with spears" "The food was good"," I would definitely do this again!", "When is the next one?" So in response to an overwhelming response we would like to start surveying people to see how many people would be willing to attend our next event in Springfield,MA. Will you be our guest, next sponsor or guest speaker? Do you have talent to share or a product that stands out? Are you a celebrity trying to do some charity work and would love to join forces with us for our next event? Feel free to drop us some feedback on this blog or go to our Contact Us page and leave us some valuable information so we can get back in touch with you. Until then, enjoy the weather, stay in fashion and come back to our blog periodically! We love having you here. Thanks for joining the Afri(K)que blog.
Fashionably Yours,
It's always a pleasure to hear from people who share my passion of style and this happens to be the best place to express our ideas and opinions. In case you've missed our previous blogs: Handmade for a cause, Color  your Season! and Fashion with colorful designs have inspired other bloggers and brought this website to their attention. Yes, I'm proud to say that we specialize in handmade, eco-friendly and fair-trade items.
Check out this two-piece outfit with a combination of light blue and pink colors worn by one of our beautiful Afri(K)que volunteers. Let me ask you a question, are you red carpet ready? African prints are the hot topic this year and are right in time for Spring and Summer seasons. So be ready for your time to shine! Do you want to stand out at your next event, party or show? The best idea is to keep on coming back for more fashion tips. Maybe we can even help you pick your outfit for a future get-together or find you some handmade unique jewelry to match your clothes? Either way, stay in touch and as usual, we appreciate your feedback!
Fashionably Yours,
/